Michael Kiesow Moore
Email: info@michaelkiesowmoore.org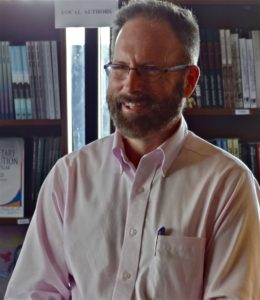 Michael Kiesow Moore is an award-winning writer of fiction, creative nonfiction, and poetry, and author of the poetry collection What to Pray For (Nodin Press). Among many awards, he has received a Minnesota State Arts Board fellowship and a Loft Mentor Series Award, and received nominations for the Minnesota Book Award and the Pushcart Prize for poetry. He has published short stories, poetry, and essays in journals and magazines including The Saint Paul Almanac, Talking Stick, Rockhurst Review, Water~Stone Review, Evergreen Chronicles, Peacework, The James White Review, Mpls. St. Paul Magazine, and in the book, A Loving Testimony: Losing Loved Ones Lost to AIDS. Most recently, he has poetry anthologized in Among the Leaves: Queer Male Poets on the Midwestern Experience.
Moore is especially grateful for the opportunity to read original work at Howard Zinn's "Voices of a People's History of the United States" on April 6, 2009 at O'Shaughnessy Auditorium, St. Paul.
Moore was born in Cheyenne, Wyoming and grew up in Florida and Maryland. A transplant to Minnesota, he enjoys the thriving writing and artistic community there. He received a B.A. magna cum laude from Towson University with special honors and a M.F.A. in Creative Writing at Hamline University, receiving the Outstanding Thesis award. His advisors at Hamline University were Deborah Keenan and Mary Rockcastle. During his year-long Loft Mentor Series residency he studied with Alison McGhee, Molly Peacock, G.E. Patterson, Elizabeth Alexander, Mark Winegardner, and Evelina Chao.
Moore is the founder and co-curator for the Birchbark Books Reading Series at Birchbark Books in Minneapolis, an independent bookstore.
Moore teaches creative writing Loft Literary Center and the Banfll-Locke Center for the Arts. His classes in the past have included:
Swords, Magic, and Fantastical Beasts: Introduction to Writing Fantasy

Using Great Short Stories to Improve Your Writing

Using Short Stories by Annie Proulx to Improve Your Fiction Writing

Beginning Creative Nonfiction

Using Short Stories by Margaret Atwood to Improve Your Fiction Writing

Writing About the Natural World: Unearthing Grace and Mystery

Writing from the Visual Arts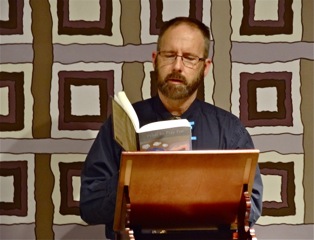 Moore also teaches "Writing Peace Into Your Life." Tailored either as an ongoing class or a one-time workshop, he teaches his students how to use writing to learn about peace, and to bring peace forward into their lives. He also founded The Loft's Peace and Social Justice Writers Group that is devoted to peace and social justice.
Moore believes strongly in the importance of community service. Current and past projects include:
AWP panels: LGBT Caucus and "Building Community with Non-Traditional Voices" (2012)

Co-chair of the University of Minnesota GLBT Systemwide Commission

Founder of Pride@Work, a GLBT employee network

Board of Directers of One Voice Mixed Chorus

Appointment to the Minnesota Department of Health's HIV Services Community Advisory Group

Volunteer Coordinator of the 1988 NAMES Project at the Minneapolis Metrodome

Organizer of the 1987 March on Washington for Gay and Lesbian Civil Rights

Longtime caretaker to men and women living with AIDS
When you can face the great ones without wanting to scream, you watch a large white wing dip into sun, feathers of silver glittering like ten thousand thousand prisms.
from from The Owl and the Fox Trap by Michael Kiesow Moore